The 5 Best Temporary Hair Dyes
Choosing your hair color is a serious business when it's a permanent shade that requires a trip to the salon (and a small portion of your savings). But a change in…
Choosing your hair color is a serious business when it's a permanent shade that requires a trip to the salon (and a small portion of your savings). But a change in hair color doesn't have to mean a major commitment when you go the temporary route. In fact, trying the best temporary hair dyes lets you experiment with as many shades as you can dream up (or mix up) right at home, and without the risk of damaged, straw-like hair.
The hardest part of going temporary is choosing the color, but selecting the right formula is also important. Hair chalks are the easiest and most temporary of the group (seriously, you can practically brush the color out). But if you have long hair or you're trying to achieve a full head of color, they can be too time-consuming since you literally draw them onto your hair.
Spray-on temporary color and gel formulas make dyeing your hair a whole lot easier since they cover more territory and still wash out after one shampoo. Just be sure to apply these products as the last step in your hair routine, after heat styling, for the most color pay-off.
Then, there's the more traditional method of using semi-permanent hair color. These temporary dyes last several weeks before they fade (depending on how light your hair color was to start with and how often you shampoo it), and they work much in the same way as an in-salon dye job. Brands like Manic Panic and Lime Crime are vegan and cruelty-free, and they don't contain bleach, so there's no risk of damaging your hair's health or original color. In addition to following the directions on the jar (and always doing a patch test first), you can make the application a little less messy by using rubber gloves, and a thick conditioner or Vaseline along your hairline to avoid staining your skin.
Still in need of some color inspiration? Check out these awesome temporary hair dyes for your next at-home makeover.
1. A Temporary Colored Hair Gel That Comes Out In One Wash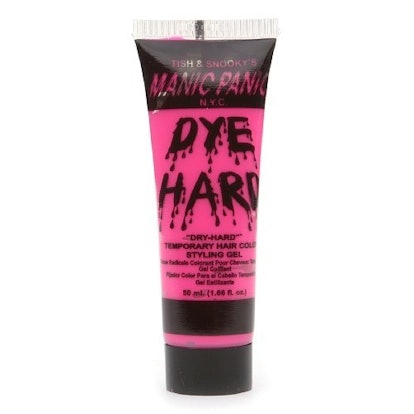 Manic Panic Dye Hard Temporary Hair Color Styling Gel
Amazon
You can't really talk hair color without mentioning Manic Panic. While the brand is undoubtedly best known for their Classic High Voltage Hair Color, they've since added more temporary options to their at-home range, like the Manic Panic Dye Hard Gel. You can use it as a styling gel that imparts hold and color, or apply it through your hair and brush once it dries for a chalk-like effect that shampoos right out. The gel, which comes in several neon shades, even glows under black light, adding a whole new dimension to rainbow hair.
Available shades: Electric Flamingo, Electric Sky, Electric Lizard, Electric Lava, Electric Banana
2. This Semi-Permanent Hair Dye That'll Last You Longer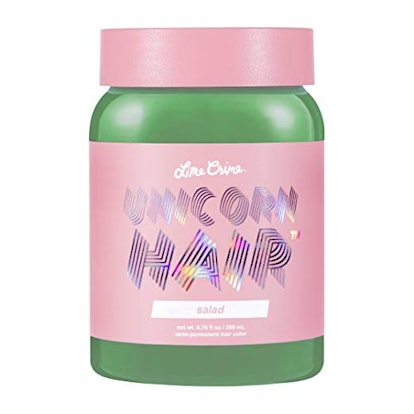 Lime Crime Unicorn Hair Tint
Amazon
For something a little more permanent, Lime Crime's Unicorn Hair comes in a variety of pastel tints and bold, full-coverage colors. Instead of washing right out, these semi-permanent shades deep condition hair and deposit color that gradually washes out for color that will last through multiple shampoos. You can even pair your color of choice with the brand's Dilute Hair Mixer for a more muted effect, like hairstylist Chris Appleton did to create a custom Barbie blonde for Kylie Jenner.
Celeb stylists aren't the only ones who love the unicorn tints — Amazon users rave about them, too. Though a few reviewers warn that you'll want to wear gloves because the dye can stain your hands and shower, and even transfer onto clothes for the first few washes, they also note that the dyes leave hair feeling healthy and soft, and stay vibrant after several weeks. One reviewer writes, "I applied it five weeks ago, and it is still a strong color." Another adds, "Lime Crime's Unicorn Hair is the best!"
Available shades: Salad, Strawberry Jam, Aesthetic, Valentine, Neon Peach, Sea Witch, Dirty Mermaid, Blue Smoke
3. A Spray-On Color That Washes Right Out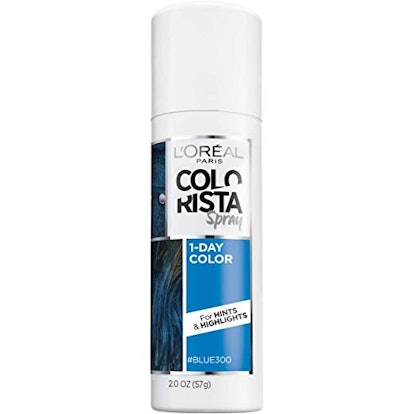 L'Oréal Colorista 1-Day Spray
Amazon
If at-home dye isn't your thing, but you still want to play around with fun festival colors, L'Oréal's Colorista 1-Day Spray is the perfect choice. Colorista is available in 10 colors, ranging from pastel pink and mint to bolder shades of blue and purple, and the spray-on application lets you apply color directly where you want it (and as intensely as you want it). While these sprays show up best on lighter shades of blonde, many Amazon users with dark hair share that it works for them, too.
Available shades: Blue, Pastel Blue, Purple, Pastel Lavender, Hot Pink, Pastel Pink, Mint, Rose Gold, Gold, Silver
4. The Best Temporary Hair Dye To Add Highlights On Dark Hair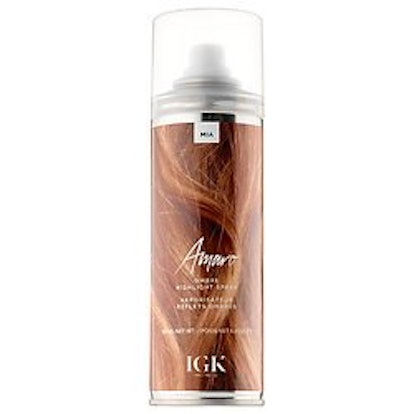 IGK Amaro Ombre Highlight Spray
Amazon
Temporary colors don't often show up on dark hair, but IGK created this Amaro Ombre Highlight Spray specifically for brunettes who want to experiment with sunkissed highlights, minus the commitment (and the damage). The paraben- and sulfate-free formula is safe to use on color-treated hair, and it's formulated with coconut fruit extract to help condition, in addition to providing UV and heat protection. Ideal for creating an ombre effect, you can spray the golden pigment on as large or small of a section as you like. The brand even makes a violet color, Sutro, that's more suited for blondes and highlighted hair.
5. The Best Temporary Hair Dye For A Rose Gold Tint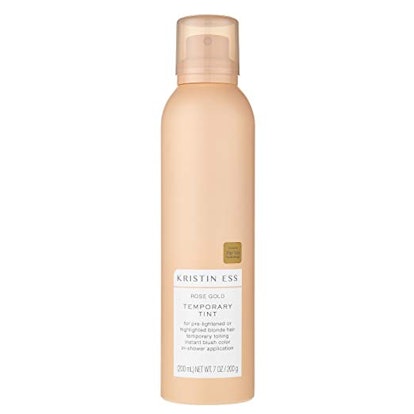 Kristin Ess Rose Gold Temporary Tint Spray
Amazon
Celebrity stylist Kristin Ess' constant color experiments with actress Lucy Hale have earned her a dedicated following over the past few years. And now, she's made those color switch-ups a little easier for you to get at home (and temporarily) with the addition of the Rose Gold Temporary Tint Spray to her range of hair care products.
Instead of applying this on hair that's already been dried and styled, Ess designed her temporary color to be used in the shower, right after you rinse out your shampoo (this also helps to avoid any stains on clothes, furniture, etc. while you're spraying). For a subtle rose gold tint, spray this on hair that's fully wet, and for a more intense finish, apply it to hair that's been towel-dried. After you've sprayed the product where you want, wait one to two minutes before rinsing your hair and applying your conditioner.
The lighter your hair, the more vibrantly this spray shows up, but Amazon users share that you can try a couple rounds of spray for more color, and it lasts after a few washes.
Elite Daily may receive a portion of sales from products purchased from this article, which was created independently from Elite Daily's editorial and sales departments.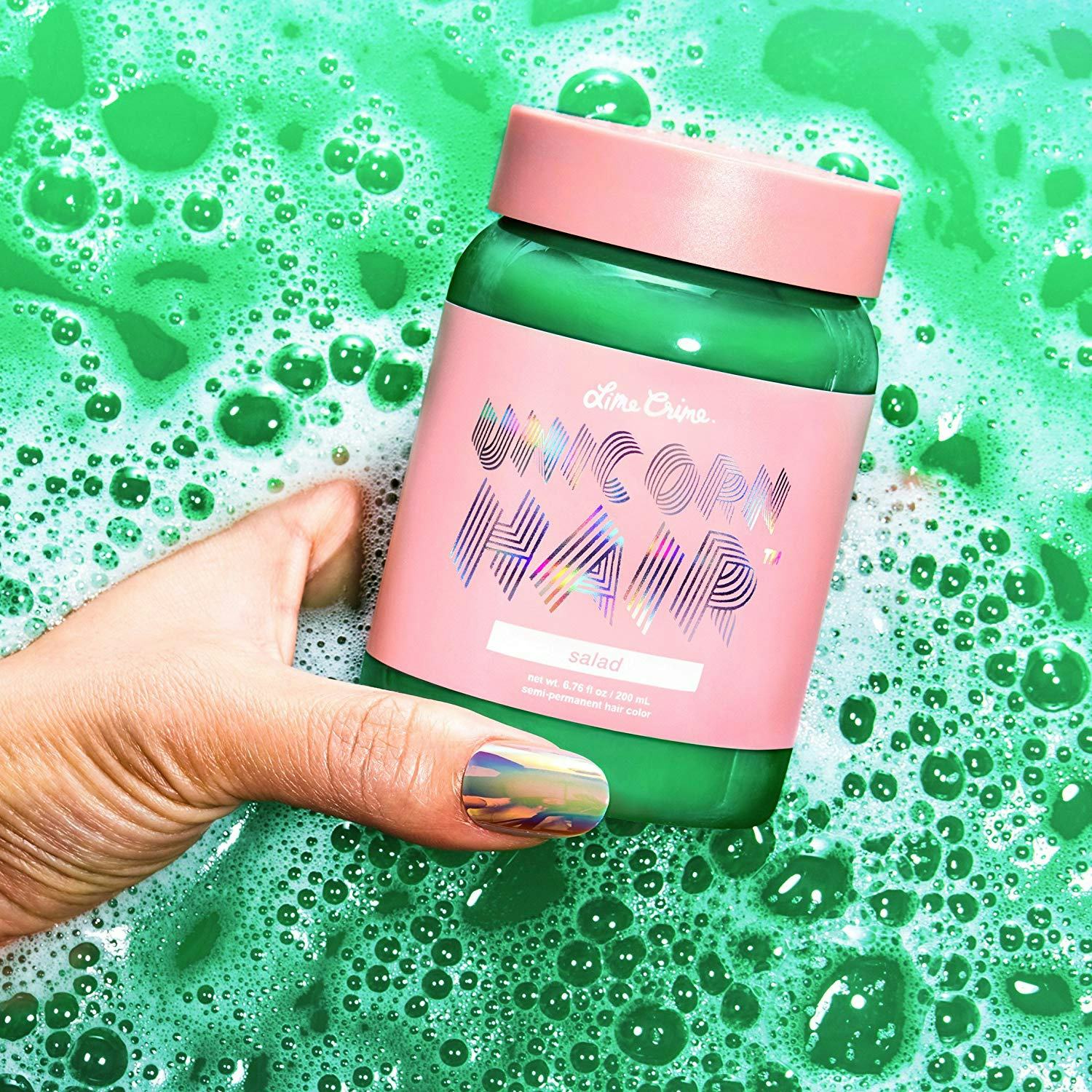 https://www.elitedaily.com/p/the-5-best-temporary-hair-dyes-16962593, GO TO SAUBIO DIGITAL FOR MORE ANSWERS AND INFORMATION ON ANY RELATIONSHIP TOPIC
As an Amazon Associate I earn from qualifying purchases

Take a look at our comprehensive guide to the best and most popular information ebooks and products available today on
Detoxing, Colon Cleansing, Weight Loss and Dating and Romance.
They are all in one spot, easy to find and compere to make a quick selection for the product that best fits your needs or wants.
Weight Loss Ebook Reviews
Dating and Romance Ebook Reviews